COME VISIT US AT

Borden Park, Edmonton
UFest Edmonton Ukrainian Festival will take place at Borden Park. Entry is free!
Address: 7507 Borden Park Rd NW
Friday, May 26 5:00 pm – 11:00 pm
Saturday, May 27 11:00 am – 11:00 pm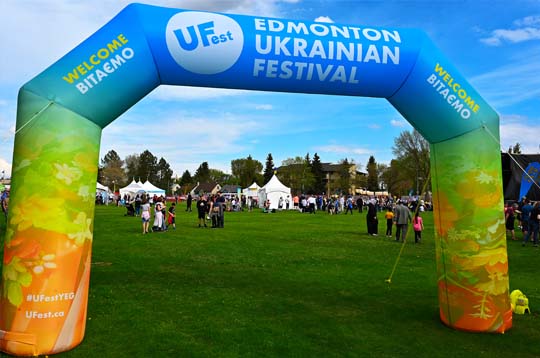 Take ETS bus route 101 from Stadium LRT Station towards Abbottsfield. Get off at:
ETS Bus Stop 1451 at 76 Street/112 Avenue WB
ETS Bus Stop 1332 at 74 Street/112 Avenue WB
ETS Bus Stop 1197 at 73 Street/112 Avenue WB
LRT Coliseum station located west of Borden Park, on 112 ave. 
There is no ETS Bus Service from Coliseum to Borden Park. Riders would have to walk from the Coliseum Station to Borden Park.
Available from the handicapped parking areas to/from the main and west entrances. There will be no shuttle available on the actual festival grounds.
Bike parking is available adjacent to the north side of the tennis courts.
Located at main entrance to UFest
Enter from 112 Avenue, turn south on 73 Street
Price: $4

Enter from 112 Avenue, turn north on 78 Street and proceed to Borden Park Rd (just east of former Northlands Racetrack)
Price: $15

Enter from 112 Avenue, turn north on 73 Street (far south lot)
Price: $15

Limited handicapped parking available on Borden Park Rd, just west of the main UFest entrance, as well as in the pool parking lot. An official handicapped placard must be visible to park in these areas.
To ensure you're ready for a fun-filled day of Ukrainian culture, be sure to bring along a spirit of adventure, a hearty appetite as well as:
Lawn Chair or Blanket – There will be some designated seating in front of the stage for seniors and those in need of assistance.
Drivers License or Other Photo ID – If you are over 18 years old, you'll need your ID to purchase alcohol at the Bar.
Sunscreen & Sunglasses
Credit or Debit Card – Entry is free but if you would like to purchase food, drinks or gifts, most of the festival will be cashless.
Reusable Water Bottle – Water filling stations provided by EPCOR will be available
Donation – Donations will be accepted for Ukrainian Canadian Social Services to help with settlement services for Ukrainian newcomers.
To ensure UFest is a family-friendly event, we ask you to not bring the following items. 
Outside Alcohol

– Alcohol service will be available at the festival

Pets

(service animals permitted)

Scooters, bicycles, and skateboards

– Mobility devices permitted. Bicycle parking is available on site

Large Umbrellas

(such as beach umbrellas)

Weapons and dangerous devices (such as firearms, explosives, fireworks, stun guns, handcuffs, clubs, batons, martial arts instruments, knives, tools, etc.)
 Cannabis, Vaping, and Cigarettes – consumption is not permitted on the grounds
Security personnel will be checking bags, coolers, strollers, wagons, etc. at the entrances.
QUESTIONS?

Frequently Asked Questions
Chateau Louis Hotel & Conference Centre - Host Hotel for UFest 2023
1.800.661.9843 or local 780.452.7770 and book under UFESTEDM for a discounted rate
Free parking, free local and long-distance (in North America) calls, and complimentary high-speed internet
All rooms include a fridge, microwave, coffee maker, iron, and ironing board.
If any groups or guests have specific needs, call Alice at 780.453.6514.