The Workshops and Demonstrations tent at the UFest Ukrainian Festival is the perfect place for hands-on activities for ages 12 and up! With a variety of workshops to choose from, including vinok headbands, painting on glass, copper etching, Polish paper cutting and coin necklaces, there's something for everyone to enjoy. Don't miss this opportunity to learn a new skill and create something beautiful!
Each workshop is $10 per person to cover supplies, except for the Coin Necklaces workshop, which is $20.
Please note that there is a limit of 20 people per workshop so sign-up early and prepay at the workshop tent.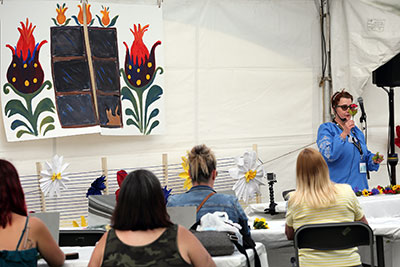 Vinok Headbands
Vinoks are traditional Ukrainian flower crowns, which you will make in headband form.

Friday 7:00 pm (signup open at 6 pm)
Saturday 2:00pm
Reverse Glass Painting
Learn a contemporary version of a unique traditional technique to create a colourful framed piece of art.

Saturday 6:30 pm


Copper Etching
Create stunning framed artwork by pressing a folklore design into copper.

Saturday 1:00 pm and 5:30 pm



Ukrainian Coin Necklaces
Red wooden beads and Ukrainian coins will be used to replicate traditional Zgarda or Dukach: a two-stranded necklace.

Saturday 12:00 pm and 4:30 pm
Paper Cutting
Polish paper cutting 'WYCINANKI"

Saturday 3:30 pm