UFest Edmonton Ukrainian Festival Launches a Brand New Website!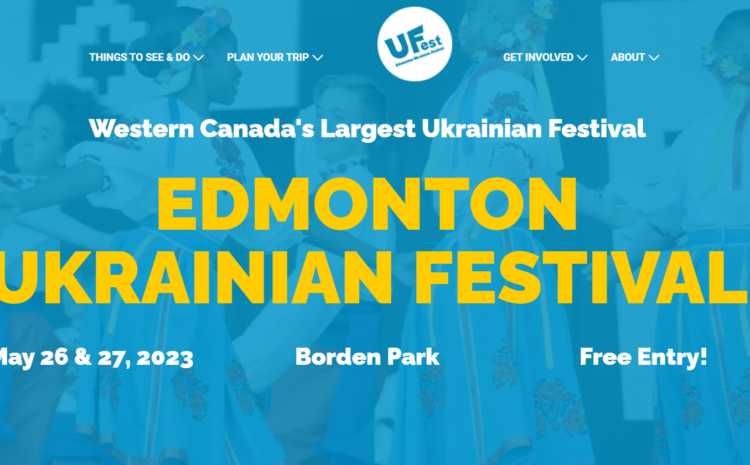 In anticipation of UFest 2023, the UFest Marketing Committee Co-Chaired by Stephan Bociurkiw and Andriy Tovstiuk, are incredibly pleased to launch a new website for the festival! The website has undergone a complete redesign, with new features and information that will make attending the festival easier and more enjoyable than ever before.
One of the most exciting new features on the website is the schedule of performers across both the main stage and band stage. We have a fantastic lineup this year, featuring some of the best Ukrainian performers from Edmonton and beyond. On the main stage, attendees can look forward to performances some of the biggest and best in Ukrainian dance and music. Meanwhile, the band stage will host a range of local musicians playing traditional Ukrainian music.
Our website is mobile optimized, so attendees can easily access the schedule and keep up-to-date on any last-minute changes while at the festival. We know that smartphones have become an essential part of daily life, and we want to make sure that attendees can stay connected with the festival even when they're on the go. However, we do recommend bringing a battery pack if you plan on being at the festival all day, as we wouldn't want anyone to miss out on any of the performances due to a dead phone battery!
We encourage everyone to check back on the website leading up to the festival, as we will be adding more information as it gets confirmed. This includes information on food vendors, sponsors, and any additional entertainment that we may have in store.
We would like to remind everyone that UFest Edmonton Ukrainian Festival is a family-friendly event. We have a range of activities for children, including a bouncy castle, face painting, and Ukrainian-themed crafts. There will also be a beer garden for adults looking to relax and enjoy a cold drink during "UFest After dark". We ask that all attendees respect our festival's code of conduct and ensure that everyone has a safe and enjoyable experience.
We are excited to launch our new website for UFest Edmonton Ukrainian Festival. We hope that the new features and information will make attending the festival easier and more enjoyable than ever before. With a fantastic lineup of performers, a range of family-friendly activities, and a great community spirit, we're confident that this year's festival will be one to remember. We look forward to seeing you there!
-The UFest Marketing Committee